Dussehra 2021:Amitabh Bachchan, Kangana Ranaut, Priyanka Chopra and others extend warm wishes | Hindi Movie News
On the auspicious day of Dussehra today, Bollywood celebs are taking turns on social media to wish their fans. Stars like Amitabh Bachchan, Sara Ali Khan, Manoj Bajpayee, Abhishek Bachchan and more are currently leading the fraternity with their posts.
Amitabh Bachchan kickstarted the day by sharing a picture of Vijayadashami featuring Lord Ram. He captioned it, "Happy Dussehra."

T 4062 – Happy Dashhera ❤️❤️ https://t.co/8DxrLgeCzn

— Amitabh Bachchan (@SrBachchan) 1634246716000
Sara Ali Khan offered a glimpse of her Dussehra celebration where she is seen decked up in a pink traditional ensemble. She wrote, "विजयदशमी की हार्दिक शुभकामनाएं 🙏🏻🙏🏻🙏🏻 Wishing everyone peace, fulfilment, abundance and good health. May this Dussehra dispel all gloom, misery and hardships and allow good to prevail and triumph over all evil. 🧿💙💟☮️💫🔥🎇🎊".
Abhishek Bachchan wrote in Hindi, " प्रेम, शांति और ख़ुशियों के साथ, आपके जीवन में हमेशा सत्य की जीत हो।आप सभी को दशहरा की हार्दिक शुभकामनाएँ। (With love, peace and happiness, may truth always prevail in your life. Wish you a very Happy Dussehra) with a creative video.

प्रेम, शांति और ख़ुशियों के साथ, आपके जीवन में हमेशा सत्य की जीत हो।आप सभी को दशहरा की हार्दिक शुभकामनाएँ।#दशहरा… https://t.co/JohsLjvyI9

— Abhishek Bachchan (@juniorbachchan) 1634268683000
Kangana Ranaut took to her Instagram story and penned down a note. It read, "kuch bhi ho kaise bhi ho…chahe waqt lag jaye lekin..only the righteous one triumphs…Jeet Hamesha achayi ki hoti hai (No matter what happens, no matter how much time it takes, only the righteous one triumphs, goodness always wins)." "happy Dussehra" she added.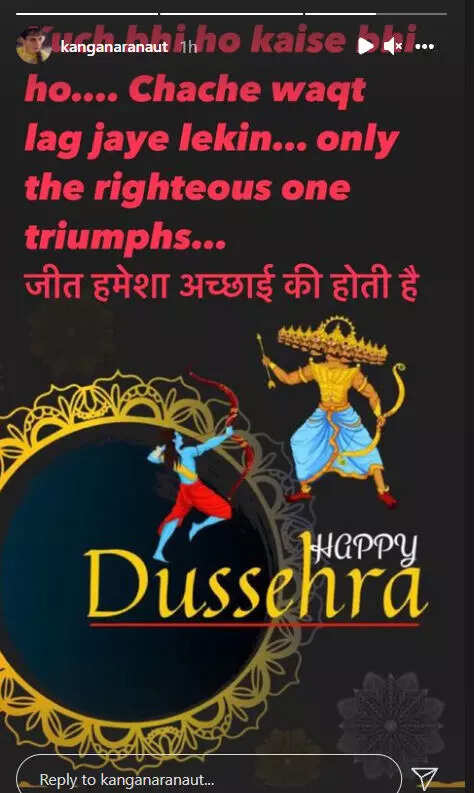 See more posts here:

Hope this auspicious and festive season brings healthier and happier times in our lives. ♥️#HappyDussehra https://t.co/OPfbfxG229

— PRIYANKA (@priyankachopra) 1634276390000
Happy Dussehra

— manoj bajpayee (@BajpayeeManoj) 1634259381000