Punjab: Small-scale industry sees no promise in 'cheap power' talk | Chandigarh News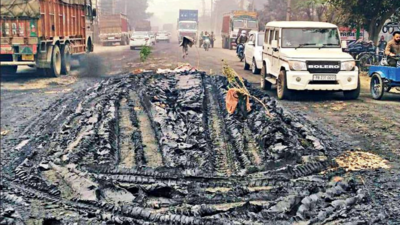 The road from Amloh to Mandi Gobindgarh in Fatehgarh Sahib district is in disrepair
CHANDIGARH: Asia's iron and steel town, Mandi Gobindgarh, has always played a major role in shaping the mood of voters in Fatehgarh Sahib district, which comprises the three assembly constituencies of Fatehgarh Sahib, Amloh and Bassi Pathana.
Mandi Gobindgarh, which falls in Amloh, has created direct and indirect employment for locals and a large number of migrants too.
Like 2017, all political parties have yet again promised lower power tariff, but small-scale industrialists say the move will benefit only large-scale industries and not them. In Amloh, Congress has won the last five elections.
On the civic front, the municipal council (MC) of Mandi Gobindgarh has a budget of around Rs 70 crore, but the town is riddled with bad roads and dilapidated infrastructure. Moreover, the construction of a crucial railway overbridge has been hanging fire for several years, even as governments and MPs promised residents that it will be completed on time.
In November 2016, SAD president Sukhbir Singh Badal laid its foundation stone and had allotted funds for the project, but it failed to take off. As a result of the delay, residents of around 50 villages have to cross the railway line to enter Mandi Gobindgarh town for facilities as basic as schools and hospitals. Some urban colonies are also affected as the civil hospital and some schools are situated on the other side of the track.This time around, the SAD-BSP alliance has announced candidates from all three assembly segments. Despite having an industrial town, the district has few employment avenues and local residents have to find employment in surrounding areas, including Mandi Gobindgarh, Ropar, Mohali, Ludhiana and Chandigarh.
The ruling Congress party is claiming to have created job opportunities with the recently inaugurated Verka dairy mega project and the laying of the foundation of a film city. There is also talk of CM Charanjit Singh Channi's brother being interested in contesting from the segment.
In Fatehgarh Sahib, Congress MLA Kuljit Singh Nagra has been seeking votes based on development works done in his area. However, dilapidated roads and streets and improper sewerage are still major issues.
Switching leaders
Congress leader Lakhbir Singh Rai was sidelined by the party in 2012. He later switched to AAP and unsuccessfully contested the polls on its ticket in 2017. After this, when Sukhpal Singh Khaira rebelled against the party, he supported the former Bholath MLA.
Later, he withdrew his support to Khaira and remained in AAP. Congress Rajya Sabha member Shamsher Singh Dullo's wife Harbans Kaur Dullo, who was MLA from 2002 to 2007, had lost on a Congress ticket in 2012 to Justice Nirmal Singh of SAD.
The party refused another chance to the Dullo family in 2017. However, in April 2019, she joined AAP and replaced party candidate Baljinder Singh Choundha for the Lok Sabha seat at Fatehgarh Sahib. She was then replaced by son Bandeep Dullo, who lost the election. In March 2019, then Fatehgarh Sahib MP H S Khalsa of AAP had joined the BJP. SAD fielded Darbara Singh Guru in 2019 parliamentary elections, but he lost to Amar Singh of Congress.
FacebookTwitterLinkedinEMail